All The Best Reasons To Participate In The Great Steak Escape - Family Edition
Whether you prefer dining in, out or at an upscale hotel, we've got something in store for your family all this June.
For Singaporean families across the island, the month of June will always bring about a stir of excitement as the school summer holidays come around and everyone spends quality time together. This year is no different and Aussie Beef and Lamb throws some Aussie goodness into the mix with The Great Steak Escape - Family Edition, an islandwide month-long celebration of top-quality Australian beef and lamb which can be savoured in various ways with families in tow.
'Steak-Out' at one of ten family-friendly restaurants offering exclusive beef and lamb dishes; 'Steak-In' if you prefer to bring home the goodness of Aussie meats and purchase one of our family bundles at participating grocers; or live it up and splurge with an upscale 'Steak-Away', which includes a night's stay at Park Hotel Alexandra and a steak-centric three-course family meal for three at The Carvery.
But wait - there's more, seriously! Stand a chance to win over $1,800 worth of prizes in the 'Steak & Win' draw come end June - all you have to do is to submit your proof of purchase*!
Whether your family's ideal dining destination is a kid-friendly restaurant, a quaint cafe, or simply a steakhouse that never fails to deliver, The Great Steak Escape - Family Edition has a venue perfect for you and your family. With a wide array of offerings from 10 of the country's top family-friendly restaurants ranging from set meals to shared plates, who is to say you have to choose just one?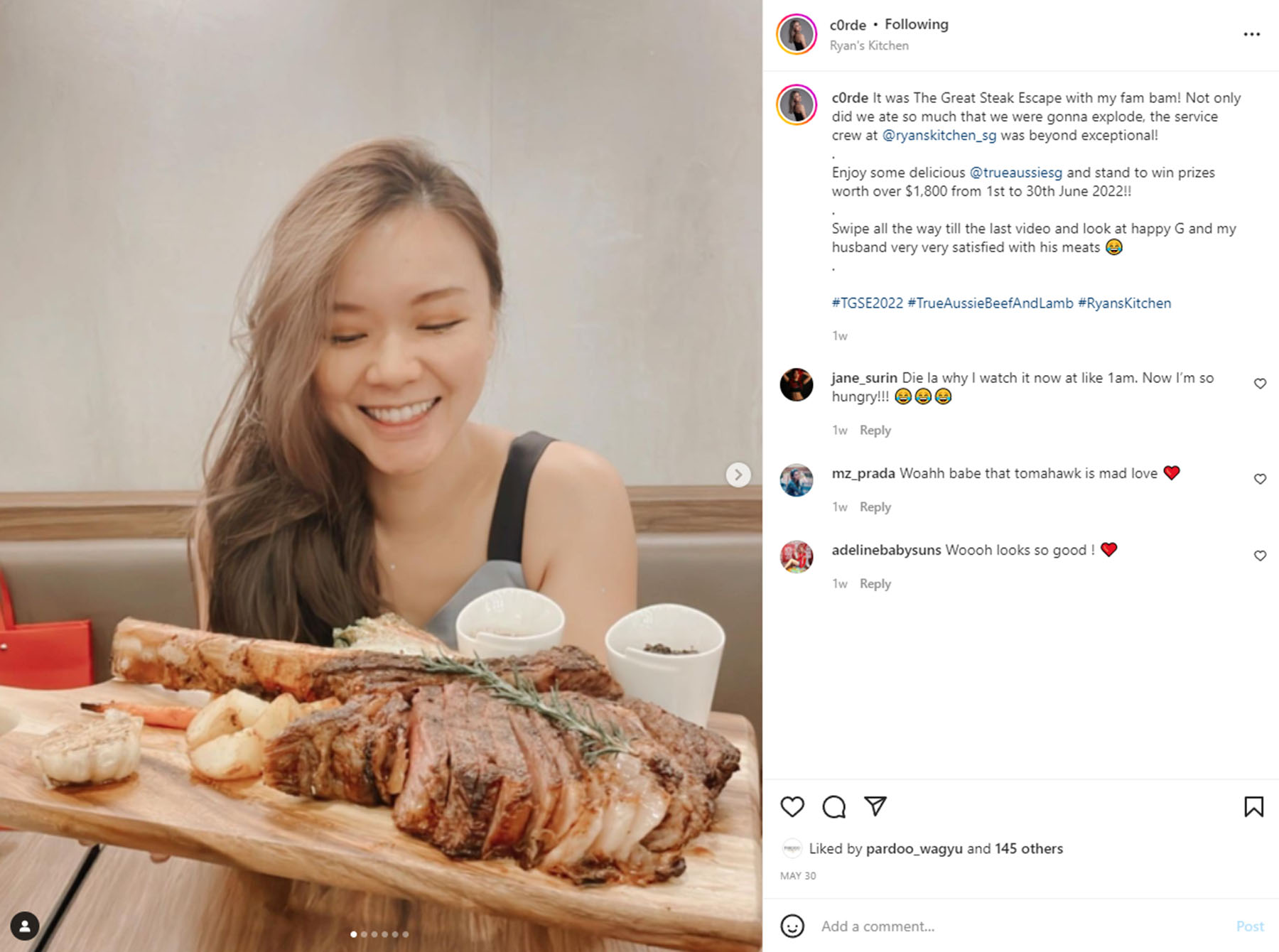 Image credit: https://www.instagram.com/p/CeLulZUPYKn/
DABBLE IN AUSSIE CAFE CULTURE
For those seeking a taste of Australian cafe culture, these spots offer up a slice of the laidback life from down under. Café Melba is an excellent choice for the ultimate family-friendly vibe and is serving a limited edition menu featuring a sumptuous 250g Australian Rib Eye Steak ($36++).
Little Farms with their proudly Aussie roots and clean, fresh produce has the Pistachio Crumbed "Roaring Forties" Lamb Rack ($42++) as a must-try on the special menu. Meanwhile, Ryan's Kitchen is an Aussie-style cafe through and through — gather up the crew to share their whopping 1.2kg Okan Tomahawk ($238++, serves 2- 4). Plus, there is Surry Hills Grocer and Wildseed Cafe too, with special menus and the chilled out cafe experience for that perfect family day out.
MEAT FEASTS AMIDST LUSH GREENERY
We love a good quality steak, and we love the great outdoors, and we love the combination of the two. Our 'Steak-Out- restaurants The Halia and Rider's Cafe both offer these experiences — tucked away locations, surrounded by greenery and tranquil serenity, these spots provide the perfect setting for dishes like the Angus Rump Cap Steak (served with two eggs, truffle mashed potatoes and salsa verde, $25++).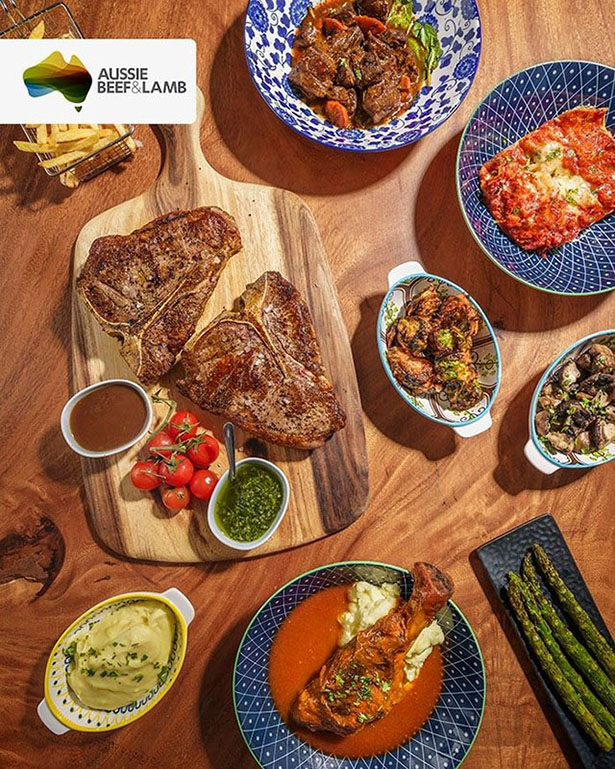 Cavemen Restaurant & Bar x The Great Steak Escape - Family Edition set
DINE WITH MEAT EXPERTS
It is not called The Great Steak Escape for nothing, and there is no better place to celebrate it than at restaurants that know their meat. Cavemen is a butchery, bar and restaurant offering an excellent selection of aged and non-aged steak such as the Australia Organic T-Bone Steak (600g ±30g, $10.50 per 100g and $25++ cooking charges). Panamericana is the ultimate grill and farm to fire restaurant, with flavour-packed meat dishes like the Little Joe Ribeye (300g, 100% Grass-fed, MBS 4+, Australia, charred herb salsa, chili citrus salt, mizuna and herbs) on their special menu. There are also dependably good steakhouses such as Barossa Steak & Grill to satisfy all meaty cravings.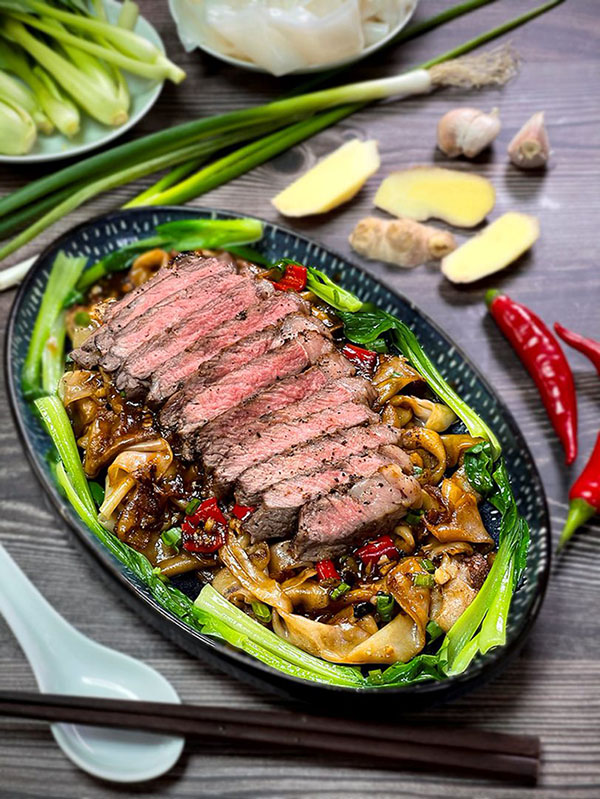 Dr. Leslie Tay (@ieatishootipost) x The Meat Club
STEAK AT HOME LIKE A PRO
Selected butchers, gourmet grocers and meat retailers including NTUC Delicato will be offering the very best of Australian beef and lamb with specially curated family bundles to bring home. Put together a home-cooked family meal that the kids will love. Options include the QB Food Beef Dinner Set ($49.80, U.P. $71.95) that serves four and includes four slices of Australian Chilled Grass Fed Ribeye (approx. 200g per slice) and a whole host of accompaniments. You have help from Singapore's best known home chefs, Lennard Yeong (@lennardy), Oh Bee Bee (@honeybeesweets.sg) and Dr. Leslie Tay (@ieatishootipost) who have recipes such as the Pan-Grilled Ribeye with Lemon Onion Sauce, and more, to share with you.
A FAMILY GETAWAY AND A MEAT FEAST
School holidays spell staycations for most of our families, and even with travel opening up, here is a tempting offer that allows you a quality family getaway without leaving our shores. The Steak-Away Experience is the perfect family getaway for meat lovers, luxuriate in a deluxe room at the upscale Park Hotel Alexandra, and enjoy complimentary breakfast together and complete the experience with a 3-course steak lunch or dinner at The Carvery (for two adults and one child). The meal includes fine Aussie steaks and a delicious meatball Spaghetti for young ones.
A MASTERCLASS TO BE A STEAK EXPERT
Here is how you can have your steak and cook it too. The Great Steak Escape — Family Edition is all about getting up close and personal with quality Australian red meat. Enter, The Great Steak Masterclass at Fyregrill Academy, which will be an interactive demo and a tasting to get you and the family a crash course in achieving a golden-crusted, pink and juicy steak, every time!
HERE IS HOW TO STEAK & WIN
The most important thing you need to know about the month-long The Great Steak Escape – Family Edition, is that there are prizes to be won worth $1,800. The second key thing to note is HOW to win them. In brief — any and all of the above steak adventures allows you a chance to win. Prizes include a Stay at the Park Hotel Alexandra, "Steak It Easy" Masterclass vouchers from Fyregrill Academy and a whole host of retail and dining vouchers. Full details can be found here.
May the best meat lover win!