Ideas on How To Prepare Quick and Healthy Meals on Busy Weeknights
The Go-To Recipes For A Fuss-Free Yet Wholesome Meal
Prepping healthy and wholesome meals for the family while working from home can prove to be a challenge, especially if you're juggling work meetings every other hour. In fact, you may be tempted to rely on food delivery to sort out your family's meals. If you're hoping to establish better eating habits for your family, you can start with whipping up fuss-free yet nutritious meals that the whole family will enjoy. Below, we've put together a handful of protein-packed recipes that are chock-full of wholesome ingredients, and the best part? They can be prepped in under an hour – just what a busy weeknight calls for.
For smaller families, these recipes will allow you to cook once and eat twice – which means you can consume half the portion for lunch and save the other for dinner or even the next day – making it easier for you to keep your eating habits in check.
Warm Australian Beef Caesar Salad
A delicious way to get your loved ones to eat more greens and protein, this salad is hearty and wholesome, featuring tender, grilled Aussie beef. The recommended cuts of beef to use for this recipe include striploin, ribeye or tenderloin, depending on your budget. The ribeye and striploin are well-marbled with tasty fat, offering big beefy flavours. The tenderloin, on the other hand, is lean but extremely tender.
Full recipe here.
Looking for a way to get more veggies in your lasagna? Skip the pasta and use wide, thin "noodles" of squash and zucchini instead. The bonus is that it's carb-free. We recommend using lean ground beef for this dish, but if you wish for a more flavourful lasagna, you could opt for a fattier ground beef blend.
Full recipe here.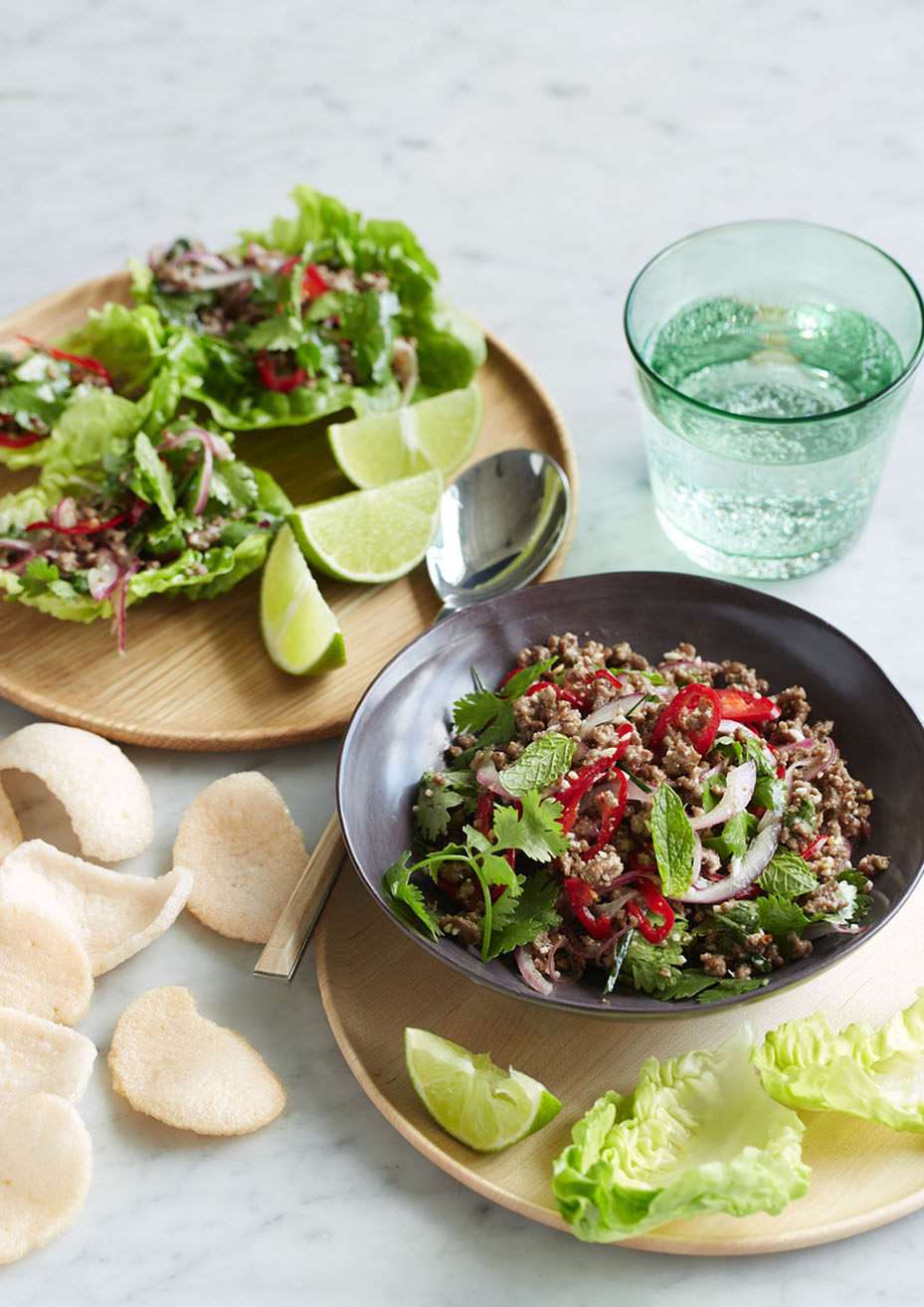 Minced Aussie Beef Larb With Roasted Rice
Refreshing, flavourful, wholesome and extremely easy to prepare, this dish is bound to be a hit with both children and adults alike. You can adjust the flavours (hot, sour, salty and sweet) to taste, by using more or less chilli, lime juice, fish sauce and sugar. Traditionally, larb, which means meat salad, uses ground meat, hence we recommend using ground beef for this recipe, which can be cooked quickly and without any fuss.
Full recipe here.
Spice Crusted Aussie Lamb Loin Chops WIth Insane Asparagus
Tender meat bursting with flavours – this is a dish that your loved ones will think and talk about for days. This recipe calls for lamb loin – one of the most prized parts of the animal, and is extremely tender and remarkably succulent when cooked correctly.
Full recipe here.
Spruce up a hectic weeknight with this comforting and tasty dish. Serve with a side of kimchi for a lovely spicy kick. Tender cuts are preferred for this recipe, so we recommend choosing either top sirloin or tenderloin. Be sure to slice them thinly across the grain.
Full recipe here.
Where To Buy Quality Beef And Lamb
Meat Co. Singapore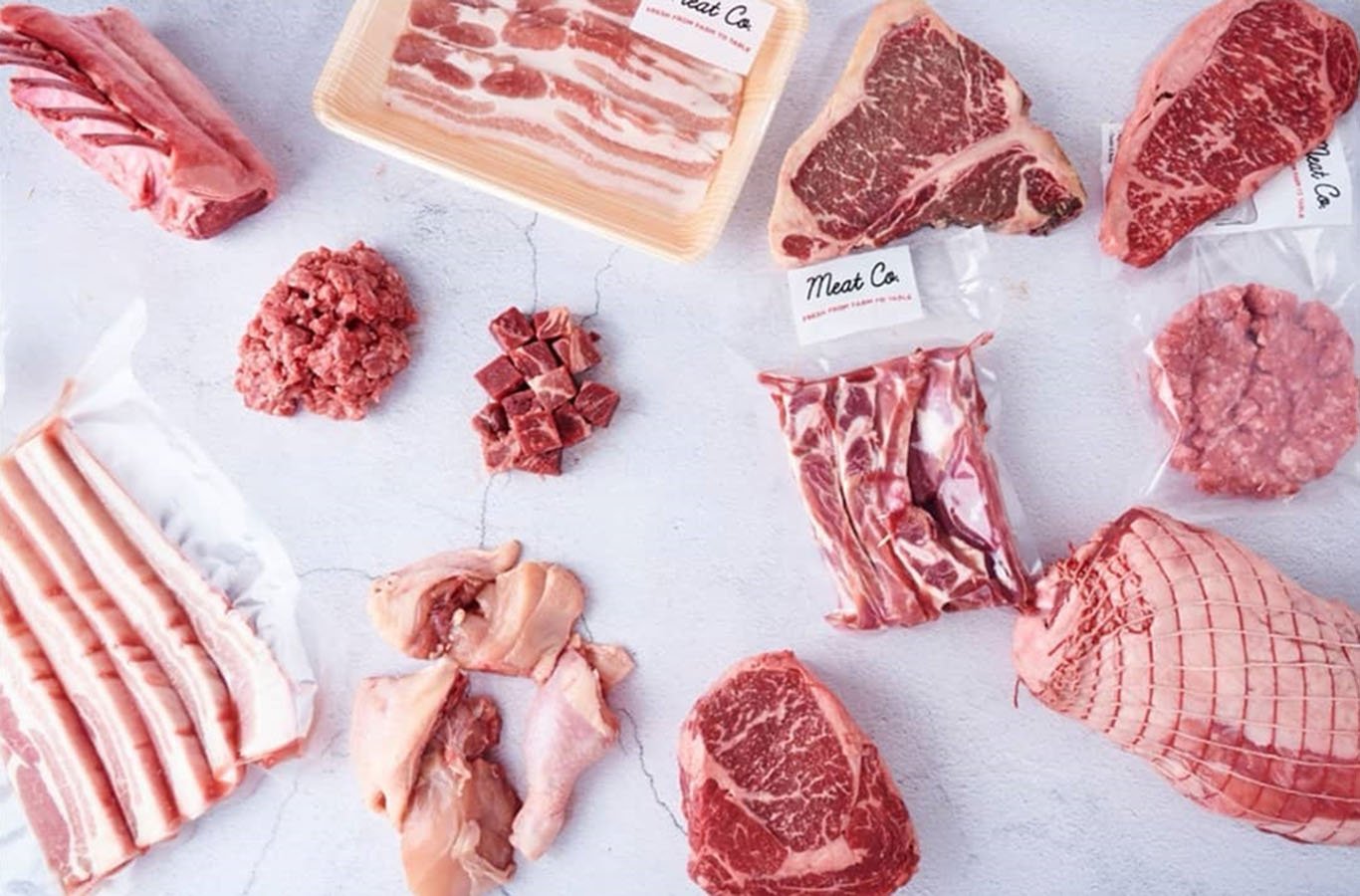 (Photo adapted from Meat & Co's Instagram page - https://www.instagram.com/p/B-s9cX3neaX/)
A Singapore-based meat specialist, Meat Co. offers premium quality beef and lamb from Australia that are raised by small family ranchers that have been rearing cattle on the same land for generations. The local meat specialists believe that healthy and wholesome produce is just as important as it is tasty, hence they only choose cattles that are free-range – never locked up in a feedlot and always in close proximity to lush pasture and clear streams. Product offerings include Tasmanian pasture-fed lamb cutlets, Victorian rolled lamb rump, Australian Wagyu, Australian grass-fed ribeye and more.
Website: www.meat-co.com
Huber's Butchery

Touted as the pioneer meat specialist in Singapore, Huber's Butchery brings in some of the world's finest epicurean meats, sourced from reputable artisanal suppliers and farmers around the world. Among their must-try products are the award-winning Margra lamb and Stockyard grain-fed Angus and Wagyu beef – the former is from the pasture-raised Australian White breed of sheep, boasting fine micro-marbling and thick subcutaneous fat, making its taste and texture superior to many of its counterparts on the market. The latter, on the other hand, is the most awarded brand in Australia and is exclusively available at Huber's.
Website: www.hubers.com.sg
Farmer's Market
Farmer's Market was established in Hong Kong in 2016 by owner Emma Pike who wanted to make restaurant quality products, predominantly from Australia, accessible to consumers at an affordable price. Products include fresh Australian beef, lamb, pork, salmon, fish, sausages and more. All their meats are 100 percent traceable, ethically and sustainably farmed, and free from hormones and antibiotics. A must-try is their grass-fed beef, sourced from farms located on the southern coast of Australia.
Website: www.farmersmarket.com.sg