An easy guide to cooking different cuts of Australian beef The Best Cooking Methods for Every Beef Cut
From lean to more marbled selections, here's how to choose your Australian beef cuts and discover the best way to cook them
Whether it is a steaming plate of stir-fried black pepper beef, mouthwatering beef rendang, or a comforting bowl of semur daging, beef is undeniably a favourite protein in the Asian household. But how should we choose the best cut for our favourite dishes?
Each cut offers a different texture and marbling and cooking it to perfection requires skills and experience. Here, chefs from around the region - Chef Kazi Hassan of Hilton Kuala Lumpur in Malaysia, Chef David Tang of the Jigger & Pony Group in Singapore, and Chef Martin Lauris Blunos of Blunos Restaurant in Bangkok, Thailand - share why they enjoy cooking with Australian beef, their favourite cuts and cooking methods, and how home cooks can store and prepare Australian beef at home.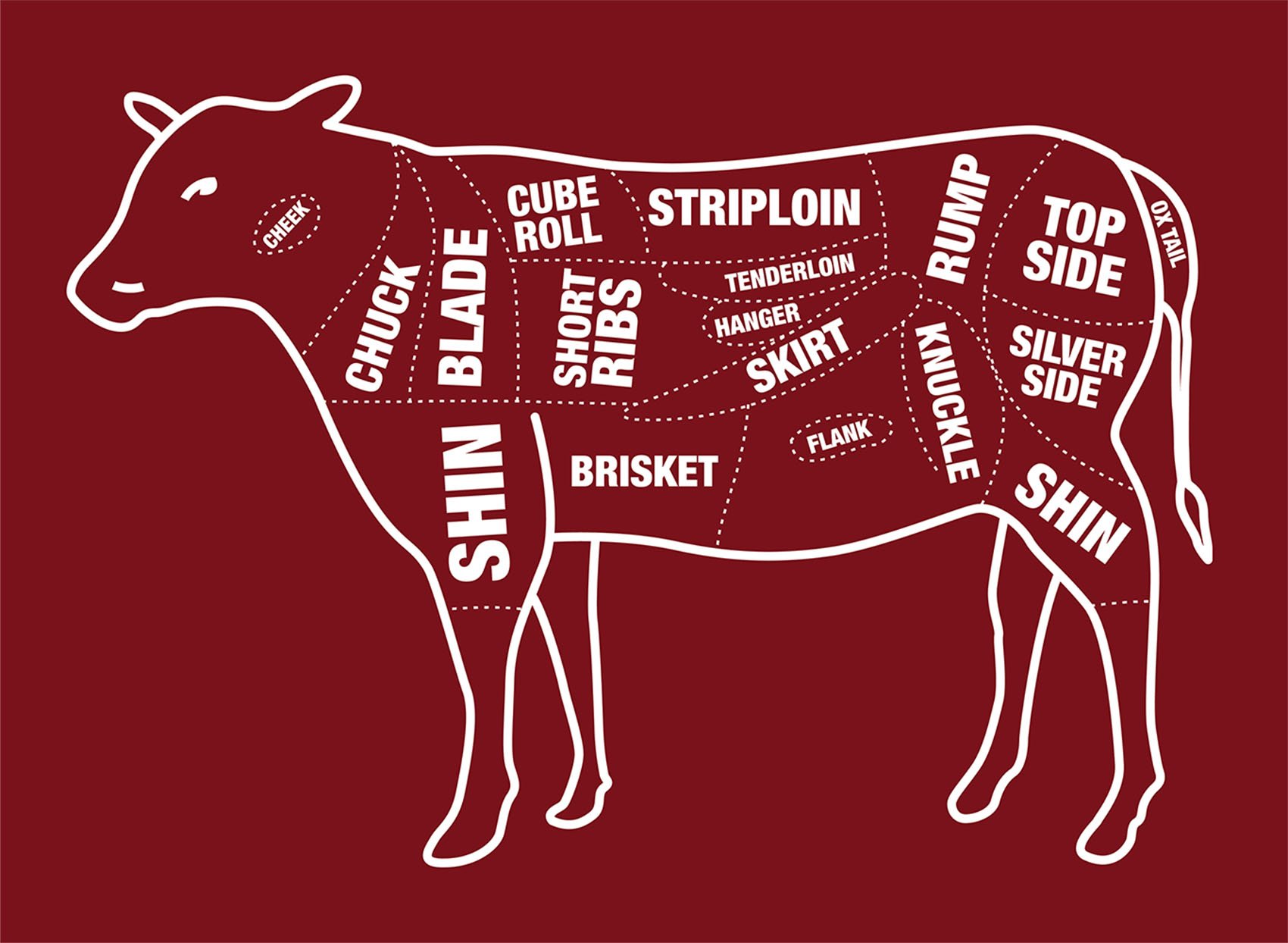 Breaking Down The Cuts
Essentially, Australian beef carcasses can be broken down into eight primal cuts, which are the basic cuts separated from the carcass during butchering. They are: the loin, rib, round, flank, chuck, brisket, plate, and shank. These primal cuts can be further divided into sub-primal cuts that home cooks can normally find in the supermarkets, like the T-bone and sirloin steak. Check out the different Australian beef cuts and their derived sub-cuts in this chart here.
Due to the composition of these different beef cuts, such as the degree of marbling and connective tissue, choosing the right cooking techniques will maximise their flavour, increase tenderness, and prevent the meat from drying out.
Loin cuts and skirt steak do not have a lot of fat cover in them and are best grilled or pan-fried at high heat to retain moisture, tenderness, and flavour. So when you're craving for some stir-fried beef with ginger and spring onions or Thai basil beef, opt for these cuts.
Cuts with high amounts of connective tissues and muscles like the chuck, brisket and round taste best with slow cooking methods. Braising and roasting help to tenderise the meat. These cuts are great for curries, rendang and even Eurasian beef smore, which require longer cooking times on the stove. For more versatile cuts that can stand up to both quick and slow cooking methods, opt for the flank, ribs, and blade.
For a versatile beef cut, David Tang, Executive Chef of The Jigger & Pony group recommends the chuck and flank as both can be sliced thin for stir-fries. Flank is a good option for grilling and chuck is great braised or stewed. Once you're confident in cooking those well, explore other cuts. "Some of my favourites include grilled rib eye for special occasions and braised oxtails for pho broth," he adds.
Home cooks can check out the recipe section for a cook-by-cut guide. For a quick weekday lunch, whip up the Aussie Beef Sirloin With Almond Mojo Sauce or if you're looking to impress, try your hand at the fork-tender Braised Beef Cheeks!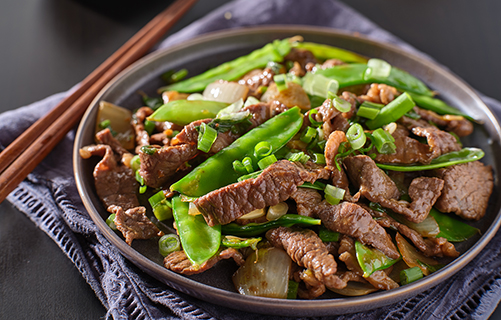 Start From The Right Source
Now that you have chosen your cut, here are some tips and tricks from chefs to store Australian beef at home and their favourite ways to prepare them.
A pro tip from David - never ever rinse your beef with water. "As soon as you reach home, remove the beef from the packaging and blot dry with paper towels. Place in a clean dish and cover with plastic wrap. Then place it in the chiller until use. Keeping the beef dry will help keep it fresh for longer and allow better caramelisation when cooking".
At Caffe Fernet, which is part of the Jigger & Pony Group, David serves Australian beef as a steak tartare. "We have used different cuts of Australian beef ranging from sirloin to tenderloin and we believe the best way to showcase the quality is to serve it raw," he shares. "I enjoy working with Australian beef because of its quality control and its consistency is always top notch," he adds.
Similarly, Kazi Hassan, Executive Chef of Hilton Kuala Lumpur likes to source his beef from the different regions in Australia. "Different climates, different grazing paddocks, grass, and grains develop different flavours and tenderness in the meat", he shares. With this peace of mind that Australian red meat products can be trusted and enjoyed wherever they are consumed, these cuts are specially treated in a custom designed Himalayan Salt Tile Dry-Ageing at Chambers Grill.
"What I love most about Australian beef is its consistency and quality," shares Martin Lauris Blunos, Chef-Owner of Blunos at Eastin Grand Hotel Sathorn Bangkok. Because of the Australian beef industry's comprehensive system of food safety, quality assurance and traceability from farm to plate, Blunos' favourite way of preparing Australian beef is to grill or roast them, and season only with salt and pepper "to taste the pure essence of the beef itself". Sharing a quick tip, he says, "let your beef rest and relax so that the juice can be absorbed back into the meat."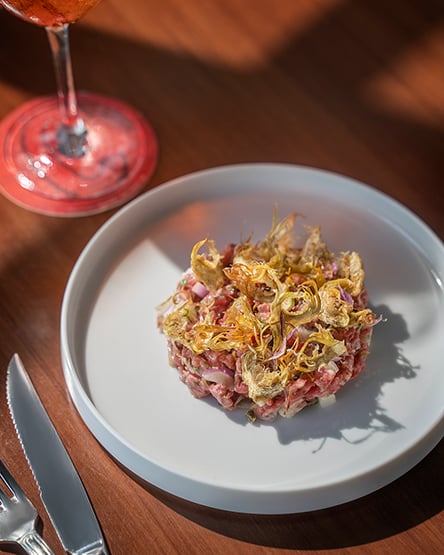 Let The Chefs Cook for You
With these tips from the chefs, you'll be ready to whip up a delectable meal. If you're in the mood to dine out instead, satiate your taste buds with the TABLExperience, a limited time dining campaign presented by Aussie Beef & Lamb. From 1 to 30 November 2021, enjoy a gustatory experience at eight of the best restaurants in Singapore, which will be introducing 21 'meatlicious' dishes spanning a variety of cuisines.
The restaurants include Butcher's Block (Avant-garde Wood-fire Grill), Butcher Boy (Bar & Grill with Asian twist), Caffe Fernet (Cosmopolitan Italian), ESQUINA (Modern Spanish), Kinki Restaurant & Bar (Urban Japanese), Kotuwa (Sri Lankan), Morsels (Asian Fusion) and The Halia at Singapore Botanic Gardens (Modern European with Asian accents, Halal).
Diners can look forward to the piquant Australian Steak Tartare served with artichoke fritti, capers and brown anchovy aioli from Caffe Fernet or the tender Grass-Fed Australian Beef Cheek, with butternut squash and baby arugula at ESQUINA. For more information, go to www.aussiebeefandlamb.sg/TABLExperience.