Top Tips on How to Cook Beef like a Chef
Want to make restaurant-quality beef? Get the lowdown on cooking different cuts of beef from chefs in Asia.
You've been slaving away in the kitchen for hours trying to create fork-tender beef bourguignon and juicy Tomahawk rib steak but still can't get them perfect. Choosing the best cut of beef for different dishes is only half the battle won. Other factors, such as proper handling of beef and mastering the right cooking techniques will save you needless and costly mistakes in the kitchen. We speak to several chefs in Asia on what their favourite beef dishes are, how to execute them well and cheat sheet ideas from professional kitchens so you can elevate your cooking game.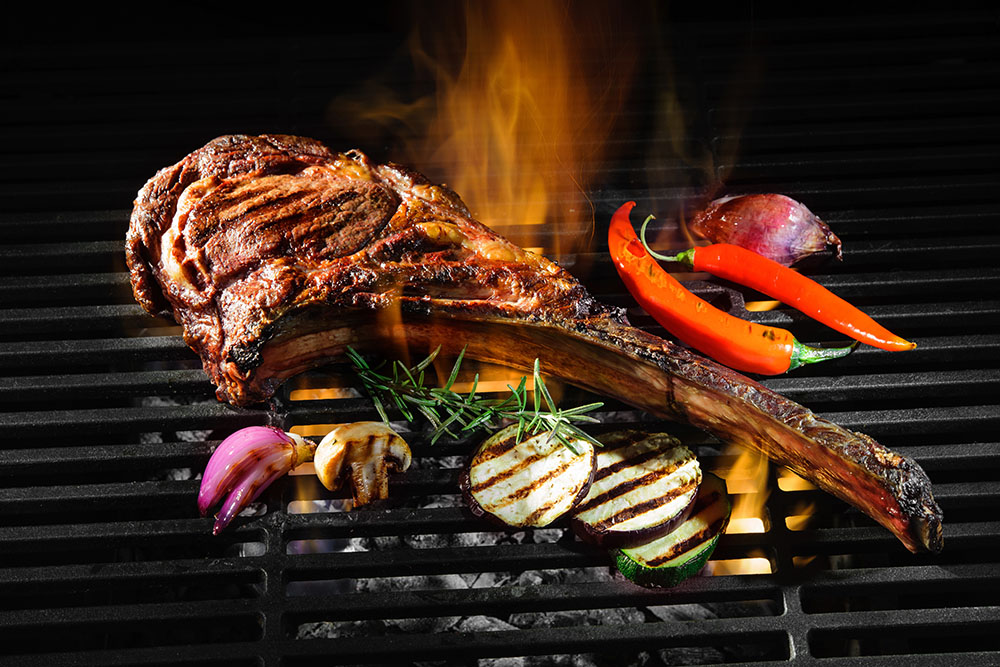 The Basics: Tips for Every Step of the Cooking Process
To start off, choose the right cut of beef that best matches your recipe and cooking technique. As a rule of thumb, prime cuts are great for quick and dry heat cooking methods. Other cuts which require low and slow cooks to break down connective tissues and muscle will suit moist heat cooking methods. "The wide range of different cuts of Australian beef available at butchers and grocers, types of finishing from grain- or grass-fed, and breeds such as Angus or Wagyu, means anyone can recreate restaurant quality dishes at home," assures Valeska, Regional Manager, Southeast Asia for MLA.
If you are cooking steaks, they should ideally be 1.5 inches thick to achieve medium rare doneness as thinner cuts tend to cook through too quickly. Before you begin cooking, remember to bring the meat to room temperature so that its internal temperature isn't fridge cold. This ensures the piece of beef doesn't overcook on the outside and dry out while getting the internal temperature to the right level.
A meat thermometer will be a great investment if you intend to cook meats often (and entertaining at home doesn't look like it'll go away any time soon). Most recipes will let you know what the internal temperature should be at. For thinner cuts of meat e.g. steaks, insert the thermometer from the side rather than from the top for a more accurate reading.
To achieve a nice crust and juicy center, first pat the meat dry with kitchen towels. (Moisture is the enemy to achieving a brown crust.) Ensure that the pan or grill is sizzling hot enough to give a nice sear and make sure the pan is not overcrowded as that can lower the temperature. Finally, to keep steaks, chops and roasts juicy, allow them to rest for five to 10 minutes before cutting or serving.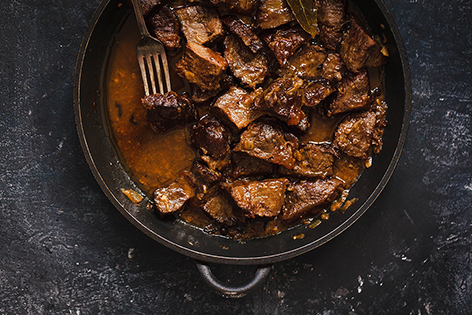 Beefy advice from the best chefs around the region
The first chef from Sri Lanka to receive a Michelin Star, Chef-Owner Rishi Naleendra from Kotuwa loves indulging in a porterhouse steak every now and then. "The secret to a great porterhouse starts with really good quality beef as that really makes a difference. Season simply with good quality salt and grill on the barbeque – I like using coal fire as that smoky dimension imparts another layer to the flavour of the meat."
His advice for all home cooks is practice makes perfect. "Keep cooking and tweaking your technique along the way till you get the dish right." For steaks, he recommends ribeye, sirloin, eye fillet, porterhouse, or flank cuts. Pro tip – for lean cuts like flank steaks, keep grill time to a minimum to prevent the meat from drying out.
A lover of unusual cuts of beef, Chef-Owner Petrina Loh from Morsels has a penchant for oxtail stew and chuck roll steak seasoned with shio koji and shallot oil, then grilled on high fire quickly. "My preference is to use off cuts rather than prime cuts as they offer a lot of flavour yet are easy on the pocket. Try bavette, chuck roll, brisket or flank cuts next time. Sous vide or braising techniques are great for off cuts, or experiment with really high heat for a quick cook." Her top tips are to always season beef well with salt, and to finish off heartier beef dishes with a spritz of lemon juice to cut through the richness.
Chef Kazi Hassan, Executive Chef of Hilton Kuala Lumpur, explains that "coming from Australia, my food is an interpretation of what I would consider 'global cuisine', which I then pair with my training in French cuisine. Instead of categorising food, I feel that people should just be asking themselves the simple question – 'What is most delicious?'." One tip he has for home chefs who would like to mix and match techniques and flavours is to stay away from East-East pairings e.g. Thai with Chinese or Japanese with Indonesian as East-West pairings are a much safer bet. For a crowd-pleasing (yet simple to rustle up) main, Chef Kazi suggests combining a Western grilling method for a Wagyu skirt steak and an Asian honey soy glaze.
Indulge in meaty delights this November
For busy foodies who prefer to dine out, eight of Singapore's best restaurants will serve up 21 different dishes using the best of Australian beef and lamb. Named TABLExperience, meat loving diners will enjoy a gustatory experience at the following participating restaurants from 1 to 30 November 2021: Butcher's Block, Butcher Boy, Caffe Fernet, ESQUINA, Kinki Restaurant & Bar, Kotuwa, Morsels, and The Halia at Singapore Botanic Gardens.
Highlights include the Lamb Curry ($24++) at Kotuwa, which has boneless grass-fed Australian lamb shoulder braised in Sri Lankan red curry. Or try the Omakase menu ($135++ for 12 courses) at Morsels, which features a 200+ days Grain-Fed Oxtail and Brisket served with orzo "fried rice", kale pickle and shallot oil.
TABLExperience is a month-long dining campaign presented by True Aussie Beef & Lamb. Remember to support your favourite restaurants from 1 to 30 November 2021. For reservations and pre-order requirements, go to www.chope.co/TABLExperience.